Movie Information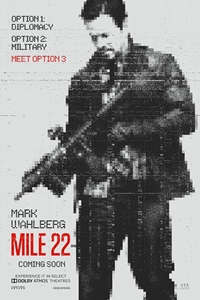 Runtime: 1:34
Director: Peter Berg
Starring: Mark Wahlberg, Lauren Cohan, Iko Uwais, Ronda Rousey
Website: http://www.mile22.movie/
Synopsis: In a visceral modern thriller from the director of Lone Survivor, Mark Wahlberg stars as James Silva, an operative of the CIA's most highly-prized and least-understood unit. Aided by a top-secret tactical command team, Silva must retrieve and transport an asset who holds life-threatening information to Mile 22 for extraction before the enemy closes in.
This film opens on 08/17/2018
Check back closer to the release date to purchase advance tickets!