Movie Information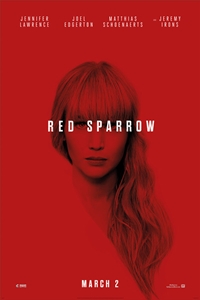 Director: Francis Lawrence
Starring: Jenifer Lawrence, Joel Edgerton, Matthias Shoenearts, Jeremy Irons
Website: http://RedSparrowMovie.com
Synopsis: Dominika Egorova is drafted against her will to become a "sparrow," a trained seductress in the Russian security service. Her first target is Nate Nash, a CIA officer who handles the agency's most sensitive infiltration of Russian intelligence. The two young operatives fall into a spiral of attraction and deception.
This film opens on 03/02/2018
Check back closer to the release date to purchase advance tickets!