Movie Information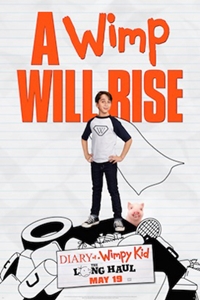 Diary of a Wimpy Kid: The Long Haul
| PG
Runtime: 1:30
Director: David Bowers
Starring: Jason Ian Drucker, Charlie Wright, Owen Asztalos, Tom Everett Scott
Website: http://www.foxmovies.com/movies/diary-of-a-wimpy-kid-the-lon
Synopsis: In DIARY OF A WIMPY KID: THE LONG HAUL, based on the record-breaking book series, a family road trip to attend Meemaw's 90th birthday party goes hilariously off course--thanks to Greg's newest scheme to (finally!) become famous.
This film opens on 05/19/2017
Check back closer to the release date to purchase advance tickets!