Movie Information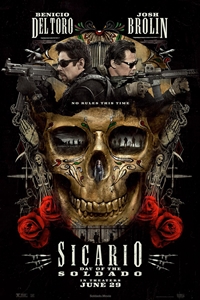 Sicario: Day of the Soldado
| R
Runtime: 2:03
Director: Stefano Sollima
Starring: Benicio Del Toro, Josh Brolin, Isabela Moner, Jeffrey Donovan
Website: http://www.soldado.movie/#home
Synopsis: In Sicario 2: Soldado, the drug war on the US-Mexico border has escalated as the cartels have begun trafficking terrorists across the US border. To fight the war, federal agent Matt Graver (Josh Brolin) reteams with the mercurial Alejandro (Benicio Del Toro).
This film opens on 06/29/2018
Check back closer to the release date to purchase advance tickets!