Movie Information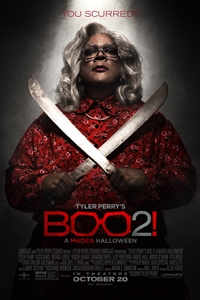 Tyler Perry's Boo 2! A Madea Halloween
| PG-13
Runtime: 1:41
Director: Tyler Perry
Starring: Tyler Perry, Inanna Sarkis, Brock O'Hurn, Diamond White
Website: http://www.boo.movie/
Synopsis: Madea and the gang are back for this hilarious sequel. Madea, Bam and Hattie venture to a haunted campground and the group must literally run for their lives when monsters, goblins and the bogeyman are unleashed.
This film opens on 10/20/2017
Check back closer to the release date to purchase advance tickets!