Movie Information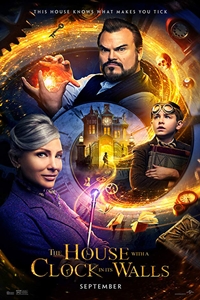 The House With A Clock In Its Walls
| PG
Runtime: 1:40
Director: Eli Roth
Starring: Jack Black, Cate Blanchett, Owen Vaccaro, Kyle MacLachlan
Website: http://www.housewithaclock.com/
Synopsis: The magical adventure tells the spine-tingling tale of 10-year-old Lewis who goes to live with his uncle in a creaky old house with a mysterious tick-tocking heart. But his new town's sleepy façade jolts to life with a secret world of warlocks and witches when Lewis accidentally awakens the dead.
This film opens on 09/21/2018
Check back closer to the release date to purchase advance tickets!