Movie Information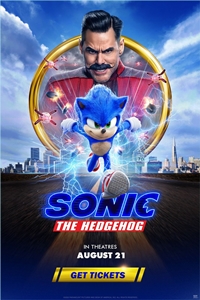 Runtime: 1:38
Director: Jeff Fowler
Starring: James Marsden, Ben Schwartz, Tika Sumpter, Jim Carrey
Website: http://www.sonicthehedgehog.com/
Synopsis: The film follows the (mis)adventures of Sonic as he navigates the complexities of life on Earth with his newfound - human - best friend Tom Wachowski. Sonic and Tom join forces to try and stop the villainous Dr. Robotnik from capturing Sonic and using his immense powers for world domination.
This film opens on 02/14/2020
Check back closer to the release date to purchase advance tickets!