Movie Information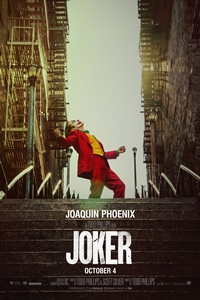 Runtime: 2:02
Director: Todd Phillips
Starring: Joaquin Phoenix, Robert De Niro, Zazie Beetz, Bill Camp
Website: http://www.joker.movie/
Synopsis: "Joker" centers around the iconic arch-nemesis and is an original, standalone story not seen before on the big screen. The exploration of Arthur Fleck (Joaquin Phoenix), a man disregarded by society, is not only a gritty character study, but also a broader cautionary tale.
This film opens on 10/04/2019
Check back closer to the release date to purchase advance tickets!