Movie Information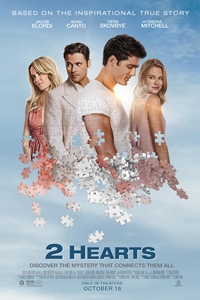 Runtime: 1:40
Director: Lance Hool
Starring: Jacob Elordi, Radha Mitchell, Tiera Skovbye, Adan Canto
Website: http://2heartsthefilm.com/
Synopsis: For two couples the future unfolds in different decades and different places, but a hidden connection will bring them together in a way no one could have predicted. Based on an inspirational true story, 2 Hearts is a romantic journey that celebrates life, love and generosity of spirit, and challenges audiences to believe miracles are possible.
This film opens on 10/16/2020
Check back closer to the release date to purchase advance tickets!