Movie Information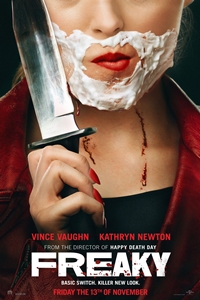 Director: Christopher Landon
Starring: Kathryn Newton, Vince Vaughn, Celeste O'Connor, Misha Osherovich
Website: http://www.freaky.movie
Synopsis: Seventeen-year-old Millie Kessler is just trying to survive the bloodthirsty halls of Blissfield High and the cruelty of the popular crowd. But when she becomes the newest target of The Butcher, her town's infamous serial killer, her senior year becomes the least of her worries.
This film opens on 11/13/2020
Check back closer to the release date to purchase advance tickets!