Movie Information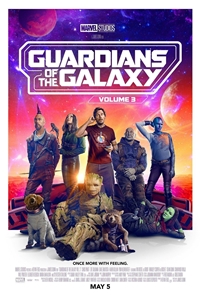 Guardians of the Galaxy Vol. 3
| PG-13
Runtime: 2:30
Director: James Gunn
Starring: Chris Pratt, Karen Gillan, Pom Klementieff, Sean Gunn
Synopsis: In Marvel Studios' "Guardians of the Galaxy Vol. 3" our beloved band of misfits are settling into life on Knowhere. But it isn't long before their lives are upended by the echoes of Rocket's turbulent past. Peter Quill, still reeling from the loss of Gamora, must rally his team around him on a dangerous mission to save Rocket's life - a mission that, if not completed successfully, could quite possibly lead to the end of the Guardians as we know them.
This film opens on 05/05/2023
Check back closer to the release date to purchase advance tickets!