Movie Information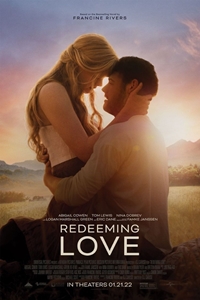 Runtime: 2:14
Director: D.J.Caruso
Starring: Abigail Cowen, Logan Marshall Green, Famke Janssen, Nina Dobrev
Website: http://redeeminglovemovie.com/
Synopsis: Based on the bestselling novel by Francine Rivers, REDEEMING LOVE is a powerful story of relentless love and perseverance as a young couple's relationship clashes with the harsh realities of the California Gold Rush of 1850. It is a life-changing story of the power of unconditional and all-consuming love.
This film opens on 01/21/2022
Check back closer to the release date to purchase advance tickets!