Movie Information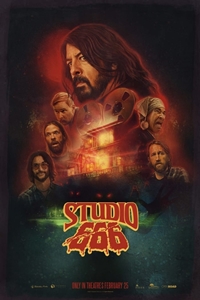 Runtime: 1:48
Director: BJ McDonnell
Starring: Dave Grohl, Whitney Cummings, Taylor Hawkins, Nate Mendel
Website: http://www.studio666movie.com/
Synopsis: In STUDIO 666, the legendary rock band Foo Fighters move into an Encino mansion steeped in grisly rock and roll history to record their much anticipated 10th album. Once in the house, Dave Grohl finds himself grappling with supernatural forces that threaten both the completion of the album and the lives of the band.
This film opens on 02/25/2022
Check back closer to the release date to purchase advance tickets!