Movie Information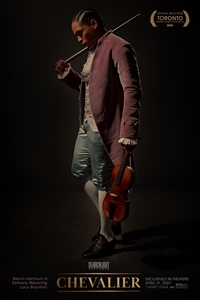 Runtime: 1:47
Director: Stephen Williams
Starring: Lucy Boynton, Samara Weaving, Minnie Driver, Alex Fitzalan
Synopsis: Inspired by the incredible true story of composer Joseph Bologne, Chevalier de Saint-Georges. The illegitimate son of an African slave and a French plantation owner, Bologne tises to improbable heights in French society as a celebrated violinist-composer and fencer.
This film opens on 04/21/2023
Check back closer to the release date to purchase advance tickets!