Movie Information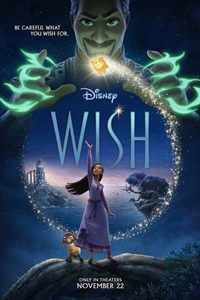 Director: Chris Buck, Fawn Veerasunthorn
Starring: Ariana DeBose, Chris Pine, Alan Tudyk
Synopsis: In "Wish," Asha, a sharp-witted idealist, makes a wish so powerful that it is answered by a cosmic force - a little ball of boundless energy called Star. Together, Asha and Star confront a most formidable foe to save her community.
This film opens on 11/22/2023
Check back closer to the release date to purchase advance tickets!