Movie Information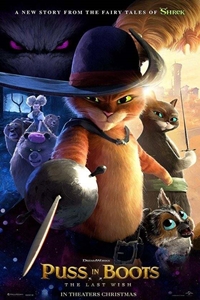 Puss in Boots: The Last Wish
| PG
Runtime: 1:40
Director: Joel Crawford
Starring: Antonio Banderas, Salma Hayek, Harvey Guillén, Florence Pugh
Synopsis: Daring outlaw Puss in Boots discovers that his passion for peril and disregard for safety have taken their toll. Puss has burned through eight of his nine lives, though he lost count along the way. Getting those lives back will send Puss in Boots on his grandest quest yet.
This film opens on 12/21/2022
Check back closer to the release date to purchase advance tickets!